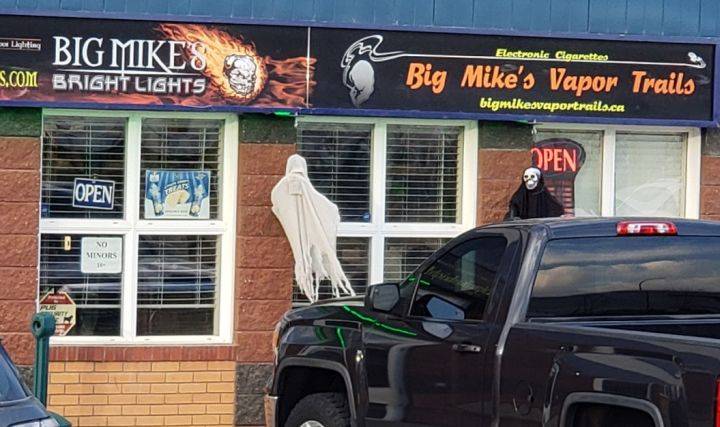 Three people have been charged with drug-related offences after the RCMP allege a store selling vaping products in St. Albert, Alta., was also selling cannabis products without authorization and before it became legal in Canada.
Police allege Big Mike's Vapor Trails, also known as Big Mike's Bright Lights, "had been advertising for months on large signage in front of the store, as well as an online store, that they had CBD (cannabidiol) products for sale."
Drug-related charges have been laid after a search warrant was executed at a St. Albert vape shop.
Eric Beck/ Global News
"CBD or cannabidiol was listed within Schedule II of the Controlled Drugs and Substances Act as a product that was illegal to possess without proper authorization," police said in a news release on Wednesday. "Even after legalization of cannabis, to ensure the safety of everyone, the sale of cannabis products, including CBD, must be authorized by the Albert Gaming, Liquor and Cannabis Commission."
READ MORE: 17 Alberta shops will sell cannabis on 1st day of legalization
Watch below: On Oct. 4, 2018, Vinesh Pratap filed this report about how many stores across Alberta will be approved and ready to sell when recreational marijuana use becomes legal.
Officers with the St. Albert RCMP Drug Unit carried out a search warrant at the store on Sept. 26, 2018. As a result of the search, police said 29-year-old Tasha Smith of Edmonton was arrested at the business.
Sixty-two-year-old Michael Sommerville and 48-year-old Unice Smith, both of South Baptiste, Alta., later turned themselves in to police, the news release said.
READ MORE: 'CBD is becoming kind of an 'it' word in cannabis': Expert says demand for low-potency weed rising
"During the course of the investigation, RCMP determined that there was no proper authorization in place to possess or distribute CBD or THC products by Big Mike's Vapor Trails/Big Mike's Bright Lights," the RCMP said. "Officers seized a variety of products containing CBD, and some containing THC from this business.
"A significant quantity of cash, a loaded restricted firearm and a prohibited sawed-off shotgun were also seized from the property."
Unice Smith and Tasha Smith have been jointly charged with two counts of possession of a controlled substance for the purpose of trafficking and possession of proceeds of crime over $5,000. They also face charges of trafficking a controlled substance and possession of proceeds of crime under $5,000.
Sommerville is charged with three firearm-related offences.
All three accused are scheduled to appear in court in St. Albert on Nov. 5.
"The RCMP in Alberta will continue to take a measured approach when dealing with illegal storefronts, with public safety being the priority," St. Albert RCMP Insp. Pam Robinson said. "[We] will continue to set enforcement priorities in consultation with local governments, partners, and citizens in the community."
The St. Albert RCMP has a drug tip line where members of the community can call anonymously to report information related to suspected drug-trafficking. The number to call is 780-460-3784.
© 2018 Global News, a division of Corus Entertainment Inc.